The Digitization of Machinery , Air & Water systems and its adherence to guidelines like GAMP6 and 21 CFR part 11 are changing the dynamics of the pharma ecosystem.
Most of the pharma professionals would, at some point in time, have heard about the term 21 CFR part 11 in their careers. For me, in simple terms, it meant high compliance PLCs capture to maintain digital records of pharma machines. But as I was exposed to multiple projects and spoke of complete traceability of products, I realized how much more 21 CFR part 11 is about. Let me give you a ride of what these regulations are :
What is CFR?
Code of Federal Regulations (CFR) basically is a collection of rules and regulations that are codified in the Federal Register ( keeps a record of all proposed and published rules of USA) . These are primarily for the Government of America . There are 50 TITLES of the CFR as under.
Each Title has parts and further classifications which are read and understood as under:
Whats the 21 CFR about?
Title 21 is the portion of the Code of Federal Regulations that governs food and drugs within the United States for the Food and Drug Administration (FDA), the Drug Enforcement Administration (DEA), and the Office of National Drug Control Policy (ONDCP).
It is divided into three chapters:
Chapter I — Food and Drug Administration
Chapter II — Drug Enforcement Administration
Chapter III — Office of National Drug Control Policy
11 electronic records and electronic signature related
50 Protection of human subjects in clinical trials
54 Financial Disclosure by Clinical Investigators
56 Institutional Review Boards that oversee clinical trials
58 Good Laboratory Practices (GLP) for nonclinical studies
Apart from the above Chapter I also include more series. The 100 series are regulations pertaining to food. 200 and 300 Series are pertaining to Pharmaceuticals. Series 500 pertains to animal medications. 600 Series covers biological products , 700 Series includes regulations on cosmetics, 800 for medical devices, and many more such series.
21 CFR Part 11 Focus.
Life Sciences companies that want to sell their products or services in the United States (only? yes!) must comply with the 21 CFR Part 11, Electronic Records and Electronic Signatures regulation. This includes systems used in researching, manufacturing, and distributing products such as pharmaceuticals, medical devices, biological products (e.g. vaccines), blood, and tissue (e.g. organ transplants).
The FDA established Part 11 in 1997 as guidance for pharma manufacturers after electronic online records and signatures became more common for product system validations. An updated Part 11 guideline came out in 2003 to enforce Part 11's requirements. Part 11 is a U.S. government regulation with fully enforceable requirements that emphasize identity verification, accountability of actions by authorized individuals, and the reporting of obligations
Quick FAQ:
If my company does not want to export to the USA, I don't need to abide by the 21 CFR part 11? Answer: No you don't. Not required unless you're planning to be audited by the FDA in the future. But you will have to adhere to some form of electronic record maintenance for the whole facility which shall be audited by the local regulatory body.
Are there other guidelines that I have to follow if I have to Export to the EU? Answer: Yes, the EU refers to a Document Called EU GMP Annex 11 ( could be called the precursor to part 11) It's important to note that Part 11 is a requirement in the US, whereas Annex 11, which applies to the EU, is a guidance document only.
Can you become 21 CFR part 11 Certified? Answer: No. Only Compliant.
Part 11 was designed to cater to the evolving needs of the Pharma and also the medical device industry, with the purpose of helping companies to
Know how to use computer systems and software, particularly when it isn't working properly.
Maintain data safely and securely, and ensure data is not corrupted or lost.
Ensure that approval and review signatures cannot be disputed.
Trace changes to data
Prevent and/or detect falsified records
We must care about the Part 11 regulation because it is the FDA's standard for considering an electronic record or signature to be trustworthy and reliable. It establishes minimums for the electronic equivalence to paper records and handwritten signatures.
The bottom line is, if you want to get away from pen and paper, you need to comply with Part 11 for activities regulated by the FDA.
We should pursue Part 11, not just because it's a regulation
The FDA lists the benefits of Part 11 below: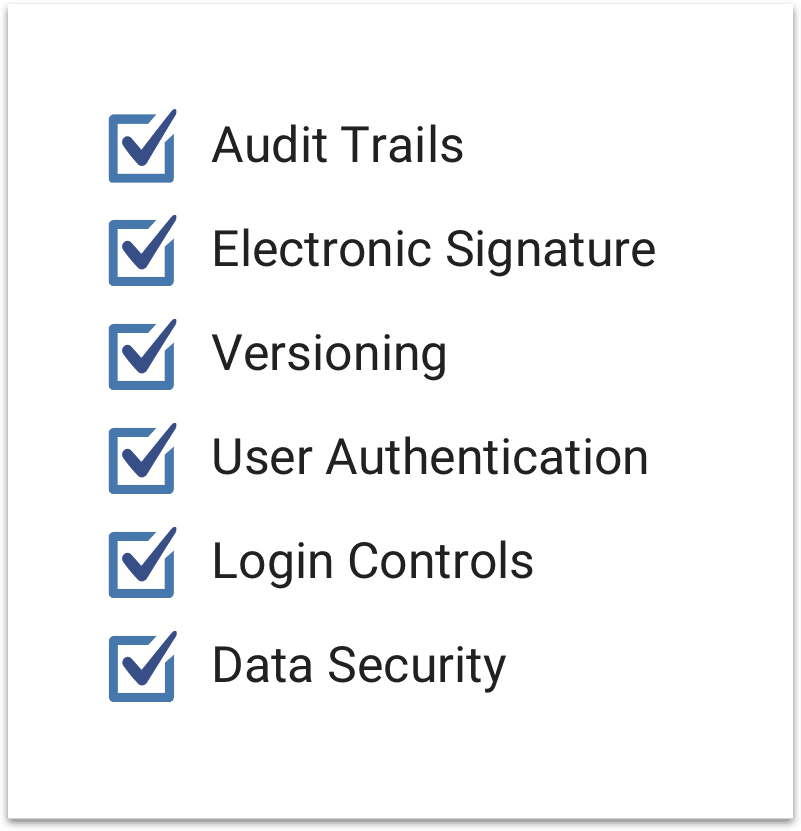 This also considerably improves:
Protection and retrieval of electronic records
Operational consistency
Improve productivity and efficiency through automation
Minimize or eliminate management of paper documentation
Enable faster data-related searches
Enable trending
Electronic submissions to the FDA
To sum up, if I were to explain what is 21 CFR part 11 in the most layman way possible it would be:
Once you have decided to have computer records, there shall be no more paper records.
Values of a particular batch or a monitoring reading once recorded, it must not be allowed to be changed.
Your data must be stored or archived in a way that when the auditor asks for it, you don't have to search for it and data must be backed up and re-storable.
You must train your staff to both capture and validate data efficiently. Validation of systems is necessary to ensure accuracy, reliability, consistent intended performance, and the ability to recognize invalid or altered records
If you have any further doubts about how 21 CFR Part 11 shall be beneficial for you in the long run? Get in touch with us at sales@hvax.in or ram.s@hvax.in